This post contains affiliate links, thank you for your continued support.
Are you looking for a Mother's Day gift for your mom? We've taken the guesswork out of it for you and put together a list of 10 gift ideas for Moms who love to cook and entertain.
1. Cookbooks
For moms who love to cook, always trying something new or starting out on a culinary adventure and she needs a little inspiration a cookbook is a great place to start. With hundreds of cookbooks on the market from Vegan Cuisine to Southwestern, you can find the perfect one to suit her tastes.
Why not take it one step further and get her a cooking class with her favorite chef in her own kitchen?! MasterClass offers classes with Gordon Ramsay, Thomas Keller, and Wolfgang Puck.  I have the Gordon Ramsay Masterclass and absolutely love it, he makes gorgeous meals simple from perfectly poaching an egg to crafting an amazing Beef Wellington.  It truly is a gift she'll cherish for years to come and you'll get the bonus perk of trying her new kitchen creations.
2. Kitchen Utensils
All cooks need a range of high-quality kitchen utensils. If she's been using the same ones for years, why not surprise her with a brand-new set?
Knives are a particularly great idea. A good knife makes all of the difference when creating delicious meals. When you've got older, dull knives it can take meals longer to prepare.
Here is a helpful tip – when choosing utensils, try to match the color with the décor of her kitchen.
3. Small Appliances
If you really want to impress her, why not give her a brand new small kitchen appliance? There are so many to pick from.
Food processors are a more expensive yet useful gift for moms who love to cook. Or maybe she's had her eye on an Instant Pot, now is the perfect time to surprise her.
Small appliances will last for years and make a great, lavish gift.
4. Cookware
New cookware is a useful gift that can actually make a big difference. Take new pans for example. Over time, non-stick pans can start to lose their effectiveness. Brand new non-stick pans will help make cooking easier and produce better results.
When picking cookware choose a timeless piece she can use for years to come like something from the Instant Pot or maybe even the exclusive Tasty Collection.
5. Specialty Items
Another 'out of the box' idea is to give her a specialty item. These could be anything from heart-shaped pans to an egg ring.
6. Kitchen Decor
I love signs with little sayings. Maybe something as simple as EAT or maybe some Kitchen Rules will bring a smile to your Mom's face.
7. Cutlery
Cutlery is both practical and stylish. Being able to use a good set of knives makes a huge difference in how long it takes to make your meals. The better they are the less time it takes.
Or if she's a fan of pulled meat, give her a set of meat claws to help her re-create her favorite restaurant-style pulled meat dish. She will be thankful for this gift. Pulling meat can burn your hands – especially if it's not tender and falling apart.
8. Kitchen Gadgets
Kitchen gadgets are great for the fun-loving mom, tech-friendly mom. There are a lot of cool gadgets on the market that aren't just fun to use; they're also really useful.  Take Food Huggers, for example, they've helped me cut down on plastic waste and make my veggies last longer – check out my Food Huggers Review.
Does your mom eat a lot of fresh vegetables? You could get her a vegetable spiralizer. This gadget makes her zucchini into "noodles" and other veggies can be spiralized as well.
9. Subscription Boxes
Does she enjoy trying new things and having the guesswork taken out of food prep and snacks?  Then a subscription box might be just what she needs! Like HelloFresh, Snake River Farms, and UrthBox.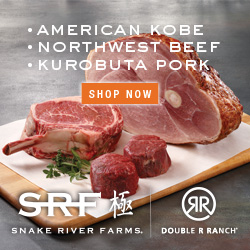 One of the favorite subscriptions I've purchased is Once A Month Meals, not only are the meals delicious but it is a huge timesaver on our busy days.  You can customize your meal plans for the family and create a shopping list with a few simple clicks.  A lifesaver for any busy family.
10. Serving Dishes
If she's not really a party person, serving dishes is a great alternative to larger Serveware. You can even buy specialty items such as olive serving dishes and oil dipping dishes.  Don't forget they also come in a wide range of styles from retro, colorful dishes to more vintage, traditional style dishes. So also factor in her design preferences when choosing the right set.
With so much choice out there, it's hard to decide which gift is right for moms who love to cook. These cooking-inspired gifts will be a perfect surprise this Mother's day.  Why not pair it with a nice bottle of her favorite wine or flowers.  Whatever you decide on she'll be happy you took the time to think of her.