When it comes to traveling, safety is a must. The perfect combination of common sense mixed in with a touch of technology can help to keep both you and your family safe and sound while on the go.  Expecting the unexpected was my best plan when I hit the road solo with the kids for an 18-hour trek down to Las Vegas.  I know lots of people drive that far or further all the time for vacation but for me it was a big deal doing it alone with the kids.
Perfect Packing
When you're leaving for a trip, it's important to pack a lot more than just clothes and sunscreen. Always make sure to have your cell phone and charger with you at all times, extra water, a few snacks and blankets.  You just never know when there might be an emergency or unexpected stop along the way. Always having an alternative option is the best way and you can never go wrong with food when the kids are involved!
Gas Stations
This probably seems obvious but keep an eye on your gas gauge and make sure you top up before you get to a quarter tank.  It is easier to stop more often and fill up then try to find gas when you're stranded.   If you are unfamiliar with the road or traveling in a less populated area then stopping and topping off the tank might be a good choice.
I found that by taking a peek at the map while planning our route let me know where the bigger centers were and if there were any stretches that might push the gas limits a bit.  There is always the app Gas Buddy that you can check for the cheapest gas in the area and even set the distance to search for miles ahead on the road.
Stay in touch
Always make sure to let a friend or family member know where you are going and where you will be staying during your time away from home. You might not know exactly where you're stopping but you can give them an idea and check in when you can.
I liked using the Life360 app because it let those who I invited know where I was and they could follow along on the journey, the best part is I could message everyone at the same time rather than sending out numerous text messages of the same thing.
Keep important numbers handy
Whether you need the destinations phone number, relatives or maybe just your roadside assist number it is a good idea to have them all on a separate piece of paper you can keep in the glove compartment.  You never know when you might break down, have a dead cell phone or maybe no cell service and need to use a pay phone.
I also keep a list in my google docs folder that is accessible from my computer, iPhone (offline too) or anywhere you can get an internet connection.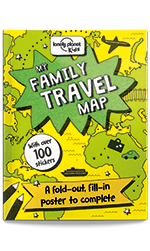 Do your homework
One of the greatest things about traveling is the ability to see new things and experience new places, but it's also important to keep safety in mind while exploring.  A lot of destinations allow you to order an info package online and have it sent to your house before you embark on your journey but if its last minute there is usually an easy download of the same thing online.
Stumped on a destination?  Check out the collection of Road Trips at Lonely Planet.
It goes without saying always travel in well-lit areas and avoid places that seem to be deserted, especially after dark and in locations that you are unfamiliar with.
It is funny how much you learn about yourself and how organized you actually are when you get put in a car with two kids and a dog for 18 hours.  Good news is we all came out of it with great memories!
What's your best family travel tip?
This post contains affiliate links, thank you for your continued support