Shoes. Toddlers. Fun.  Three words that don't really go together all that well but Reebok has found a way to bring the fun back into a shoe and as a Mom I'm loving it!  Who knew buying a shoe could be so easy.  Reebok has thought of everything when it comes to the VentureFlex not only do they have a removable insole making sizing easy but the shoes look pretty cool too!
Reebok VentureFlex for Toddlers Puts Fun Back in a Shoe #FinishLine
I was excited when my crossfit shoes and Dustin's new toddler kicks arrived in the mail.  I have to tell you I was pretty quick to through them on and try it out.   Reebok's Ventureflex has an incredible flexible outsole, a sock liner tool which helps you quickly size your toddler's foot and also a wide toe box for some of those chubby toddler feet out there like Dustin's.  My favorite part of it is no sweaty toes for Dustin and he ran in them for hours.
The VentureFlex is just for toddlers and available in girls and boys sizes 2-10!  FinishLine has a great selection of both and at a price that makes them affordable.  The shoes have a mesh and synthetic upper to help keep feet cool and dry as your busy toddler runs around keeping you on your toes.  The flexibility in the shoe is amazing and Dustin was able to move with ease while the mid-foot section is stable ensuring his ankles were safe and secure and the rubber soles give pretty good traction too.  The fun colors will make the kids happy and the quality and price will keep you happy too!
I happily recommend these shoes, I even noticed that FinishLine has a great sale going on so grab them while you still can!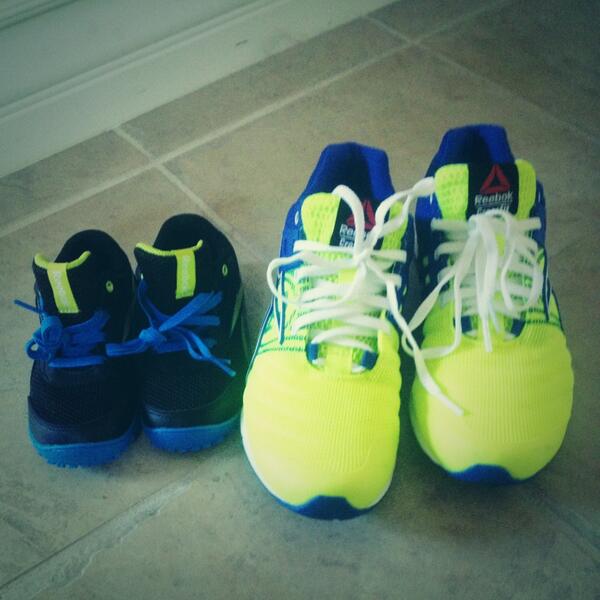 And my shoes well that's another story but the Reebok Crossfit shoes speak for themselves.  I through them on brand new out of the box when I was taking some friends out on the Las Vegas strip.  I was on my feet for a good 10 hours exploring and showing my friends around and not once did my feet hurt or sweat, I did get a lot of compliments though!  Who doesn't love neon shoes?!  The next day I woke up and my body didn't hate me for being on my feet all day.  I have to say I think Reebok is on to something wonderful with the Crossfit series.
What are your favorite shoes?
This post contains affiliate links, thank you for your continued support