Get ready for tons of bubble fun with the Gazillion Giant Bubble Mill!
This unique machine and specially formulated bubble solution produce bigger bubbles than ever before in seconds  Dustin loves everything to do with the outdoors so when we found out about the Gazillion Giant Bubble Mill we were excited to test it out!
After opening the package and putting the batteries in the machine, Dustin was able to fill it with bubbles and turn it on himself.
The Gazillion Giant Bubble Mill Review
Gazillion Giant Bubble Mill brings a super-sized bubble experience like never before! Simply pour Giant Gazillion Bubble Solution into the reservoir, push the button, and watch as the wheel turns and blows GIANT bubbles into the air!
The Giant Bubble Mill includes an 8 oz. bottle of non-toxic Giant Gazillion Bubble Solution, this lasted up at least 30 minutes of bubble fun.  The downside was 3 AA batteries are required but not included.  Recommended for ages 3+, with the moving parts they could easily get their fingers caught in the bubble mill.
At a price point of $26.99 Canadian this Gazillion Giant Bubble Mill is well worth it in my books!  Available at Toys "R" Us and Walmart Canada.
Why not add more bubble fun to your summer with the Giant Gazillion 2L Bubble Solution!
Giant Gazillion 2L Solution
This solution has been formulated to create bigger bubbles that are more elasticized than any other formula so you can create truly GIANT bubbles. Each 2-litre bottle of Giant Gazillion Bubble Solution comes with a specially designed bubble wand and works with any Giant Gazillion Bubbles product. This premium solution is eco-friendly, safe, non-toxic, and will not stain clothing or furniture.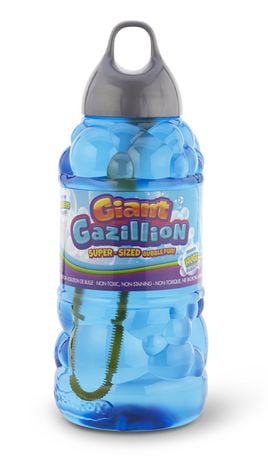 With Giant Gazillion Bubbles, you'll run out of breath before you run out of bubbles! Recommended for ages 3+ with a price point of $9.99 Canadian, also available at Toys "R" Us and Walmart Canada.
We had a blast with our review of the Gazillion Giant Bubble Mill.  Dustin said it is awesome and can't wait to have his friends over.  I like it because the price is great and it supplies endless hours of fun!
What's your favorite summer activity?