It seems like everyone I know is pregnant right now, which is extremely exciting for me because I don't get to shop in the cute baby clothing department anymore.  The tiny clothes are adorable and can melt any heart plus they make the perfect baby shower gift.
The good thing about pregnancy and people wanting to buy gifts for the new baby is you can start building a stockpile of clothing essentials.  I've put together the top 7 baby clothes that are essential for any new parent.
Baby Clothes: The Top 7 Essentials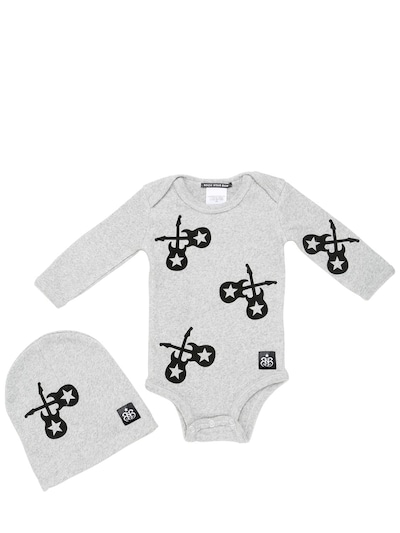 1. Onesies
Onesies are a one-piece garments like overalls or coveralls that every newborn spends a lot of time in.  My kids lived in onesies for the first few weeks while we were finding our groove.
Choose onesies that can be easily opened and fastened so that the baby can be changed with minimal effort is a must. You can get adorable onesie sets from rock star baby to a cute little saying like "Mommy's Little Man".
2.  Cotton Tees
A cute cotton tee teamed up with cotton pants, shorts or a skirt are great for indoors, especially when the baby is transitioning into the mobile stage!  Having lots of tees on hand in different sizes is a must for any new parent.
3. Sleepers
I love how cute babies are in a little sleeper.  A one-piece sleeper is great nightwear to keep the baby safe from a draft and they're comfortable to sleep in.
4. Warm Clothes
Having a variety of clothing types on hand is great for transitioning from one season to the next.  Add some warm clothes like sweater and fleece that will protect them from the cold weather so they can still enjoy being outdoors without the need to be bundled up in blankets.
5. Caps and Hats
A fashion accessory must have for any baby wardrobe!  From sports teams to cute summer hats you can add a fun cap to any clothing choice to help protect baby from the elements.
Another accessory to think about it mittens.  In the winter you can't go without them but they're great for summer too!  Babies tend to scratch themselves with their own nails so having a little protection is never a bad thing.  You can also find great mitts that are perfect for teething too.
6. Receiving Blankets
While this isn't clothing I think it goes without saying babies spit up, need to be swaddled and even used as a changing mat in a pinch.  These soft, snuggly blankets are a must have and you can never have enough because they're useful in every room of the house, the car, the diaper bag and wherever else an outing might take you.
7. Diapers
Making the decision to use cloth or disposable shouldn't be taken lightly, there are many benefits to both and taking cost into consideration is also a factor.  Keep in mind if you're using disposable diapers you're going to need a lot.
Asking for diapers at your baby shower is a brilliant idea.  Not only will this save you money down the road but it will also allow you to watch for sales and stock up on the sizes you'll need.
I hope that this list of 7 essentials will help you the next time someone asks what they can buy for you and the new baby.
What's your favorite baby essential?