Your time is now. Get started today.

Get Jack Canfield as your mentor
for the next 10 days - FREE!
Get Ready to Transform Yourself for Success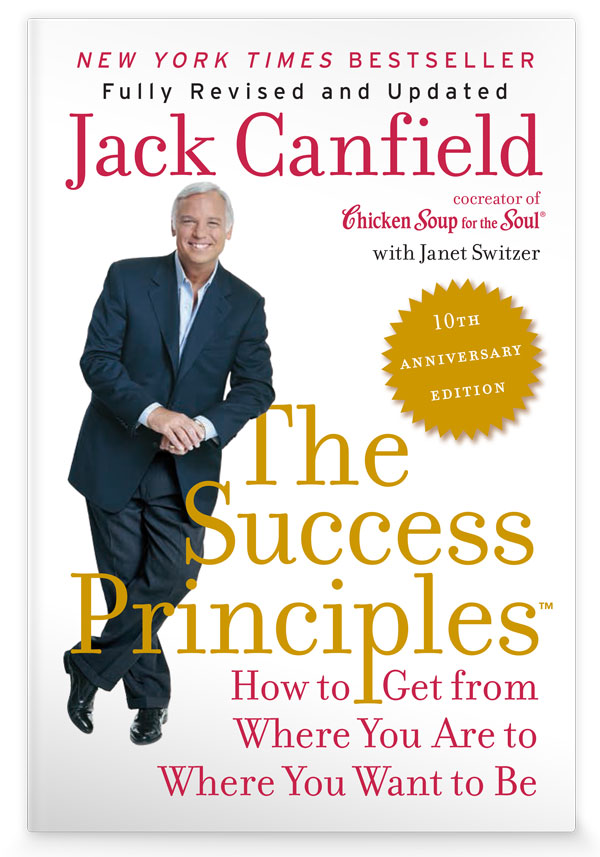 The Just-Released 10th Anniversary Edition of The Success Principles: How to Get From Where You Are to Where You Want to Be is a revised and updated edition of Jack Canfield's classic bestseller... with a brand new foreword and an afterword for succeeding in the digital age. It has been hailed as the new self-improvement classic, containing 67 of the most powerful principles of success known to mankind. Since its publication a decade ago, Jack Canfield's practical and inspiring guide has helped thousands of people transform themselves for success.
It doesn't matter if your goals are to be the top sales person in your company, become a super-star athlete, lose weight, become a better parent, increase confidence, buy your dream home or make millions of dollars – Jack can help you develop a clear, personal plan of action that will completely transform your life into exactly what you want it to be.
Order the Book Today and Receive FREE Bonus Gifts from Jack.
If more success and personal fulfillment is what you're seeking, Jack Canfield can help you get from where you are - to where you want to be. For more than 40 years, Jack has been teaching, training and coaching entrepreneurs, educators, corporate leaders, and people from all walks of life (and of all ages, cultures and backgrounds) to create the life they desire - and he can do the same for you! As the beloved originator of the Chicken Soup for the Soul® series, he's personally taught millions of people his unique and modernized formulas for success and personal fulfillment, and is a widely recognized leader in peak performance strategies.
To get started, explore our life-transforming products, dynamic in-person events and valuable free resources to discover fun and easy ways to accelerate your success – STARTING TODAY!
Latest Blog Posts
If you had been there, you would have loved it! Earlier this month I met with hundreds of entrepreneurs, leaders, coaches, trainers, authors, and people from all walks of life at my world-renowned Breakthrough to Success workshop in Las Vegas. Over 5 powerful days, I